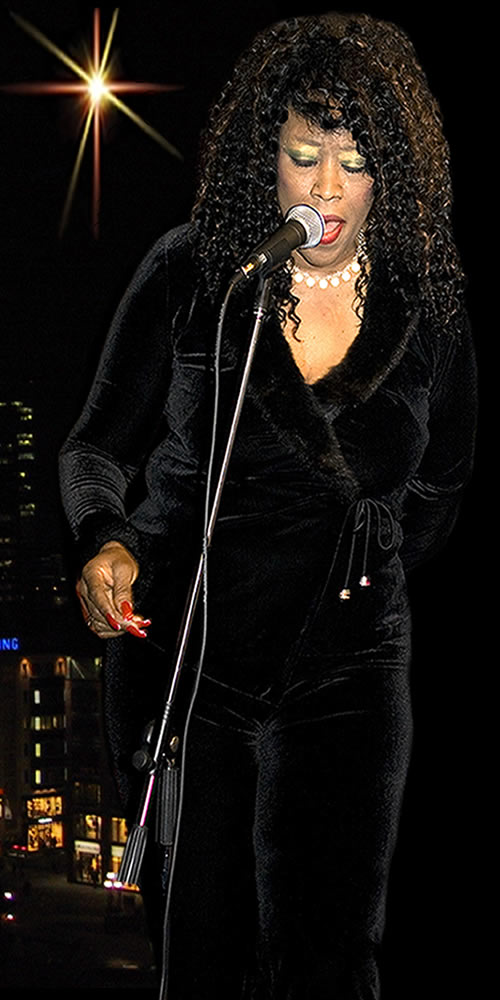 Special Events
After attending New York City College of Art and Advertisement she then transferred to Cyprus Hills Music School Of Performing Arts. 1980-1983  Pat worked as Fashion Co-ordinator and private assistant for the world famous Halston in Fashion house Halston, and worked as a singer on weekends in different jazz clubs in New York and in 1986 Pat performed in her first Musical The Wizard of Oz.
1987-1992
Pat performed in Festivals and Open Air concerts such as, Sweetwaters in New York, Goombay Festival Nassau Bahamas, Mardi Gras and Ton of Fun in New Orleans Louisiana, The Mobile Blues Festival in Alabama. Performing in Europe with stars and groups such as Jose Carerras and Linda Hopkins etc. Lionel Hampton asked Pat personally to come on stage and sing a song or two. Pat performed at the North sea Jazz Festival with Vic Pitt, the Weather Girls, also the Heavenly Soulful Singers , the Montreux Jazz Festival, Jazz Festival Dresden and Finland, guest stared with the Barrelhouse Jazzband, Latitude in Paris, and in the Jazzkeller Frankfurt / M.  
1992-1995
Pat performed as lead singer in the  Gospel Group the Jackson Singers, and actively participated in the recording of at least three " Jackson Singers CD.  During this time Pat sang in the Rudy Carrel show, WDR (west German radio station), Holgas Waschsaloon (TV station Hr3), TV personality Alfred Biolek, and the film "Le Nouveau Monde Alain Courneau. Within a year of leaving the Jackson Singers Pat recorded her first solo single hit I´M A BELIEVER for METRONOME Records. As background singer  Pat has performed with such greats as Katie Webster,  Luther Vandross, Kool and the Gang, and has performed many times in the famous Weather Girls night club as the Blues house singer. As solo guest  Pat sang in  Sommer auf dem berg (sommer on the hill) open air featuring  Odetta, Reinhard Mey, Hannes Wader, Udo Jürgens and many others, and appearing later at  Ronnie Scotts club in Birmingham England.
1996-1997
CD "Lufthansa Cargo  LD 3" ( Don Ridgeway Production for Lufthansa )
CD Save the Children ( R+R Music/ Emi for Lufthansa and S.O.S. kinderdorf ) European tour with Gene (mighty flea) Connor and the Gospel Caravan, with radio coverage from the Bayrische Rundfunk. During this time Pat stepped in after the lead singer from the famous group " The Clara Ward Singers " fell ill and couldn't make the trip. Pat joined the Clara Ward Singers full time the next year and toured as lead singer for four years with the group. During this time Pat also recorded the CD, LIVE IN PRAGUE with Gene Connor, the Clara Ward Singers and the Steamboat Stompers.
1998-1999
Pat formed her own Gospel group the American Gosple Train and performed at festivals such as the St. Louis Blues Festival, Bayerischer Hof, Koepernicker Blues, and Jazz Festival, with Maxine Waldon. The Jazzov´s  Festival in Jablonex with Chris Barber, Lehrte Blues Festival. Worms Blues Festival with the Steamboat Stompers and Tribute to Bob Dylan in Mehrbusch Festival Heidenheim and Big J McNeeley.
2000-2004
Pat successfully toured with her group "Pat Klipp and the AMERICAN GOLPEL TRAIN with concerts in Prague, and throughout Europe, with all concerts being sold out. Pat Klipp is the most sought after singer for Blues, Gospel, and Jazz throughout Europe and Germany,  has her own style, and  captivates her audiences with  Amour
2005-2007
Worldwide Tour-concerts booked throughout Europe, USA, Japan, Turkey and Portugal, Festivals Ginza and Shanan Hiratsuka Tokyo Japan, Tanabata Festival, Ginga Japan, Festival Rhythme er Cavennes, Cazorla Blues Festival Portugal, International Music Festival Istanbul Turkey and U.S.A. with The 5 Blind Boys of Mississippi.
2007-2009
Proved to be very exciting for Pat Klipp with concerts booked throughout Europe, Japan and Istanbul such as Blues Festival Ginza and  Shanan Hiratsuka Tokyo Japan, Tanabata Festival, Ginga  Japan, Festival Rhythme er Cavennes, Cazorla Blues Festival Portugal, International Jazz-Music Festival Istanbul Turkey and in New York U.S.A. with the famous Blind Boys of Mississippi.
2010- 2011
Blues + Gospel Tournee in Czech Republik 2011 Blues + Gospel Tourneen in Deutscland, Schweiz,Czech Republik
2012-2014
Was a very exciting 2 years with concerts at the Frankfurts New Commers Festival, and the Obamas post election party for Democrats Abroad and in Slovenia. Also in Frankfurts Hall Of Kings, Pat performed for his Excellency Ambassador Emerson, Ambassador to Germany.